Prisonist.org: Faith & Dignity
for the Days Ahead
Blogs, Guest Blogs & News
April '16 Newsletter
ABCUSA Grant for Struggling Families,
The Norwalk Hour, Family ReEntry,
Grace Farms, The Nantucket Project,
Christ & Holy Trinity Westport,
From: Rev. Jeff Grant, Director, Lynn Springer, Founding Advocate
Progressive Prison Project/Innocent Spouse & Children Project
Prisonist.org: April '16 Newsletter
Op-Ed: To CT Gov. Dannel P. Malloy and Our CT State Legislators
To read Jeff's Op-Ed responding to the CT's Plan to Cut Funding for Prisoner Reentry, Mental Health & Substance Abuse Treatment, please click
here
.
Grant: ABCUSA Has Awarded Us A Matthew 25 Grant To Help Struggling Families!
We are so grateful to the American Baptist Churches USA for awarding us a $2000 grant to provide one-time stipends to individuals or families with white-collar or nonviolent incarceration issues to be used for short-term expenses. Please feel free to email us if you require assistance. The funds will be administered by Jeff's Supervising Minister, Rev. Hopeton Scott of the First Baptist Church of Bridgeport. Click
here
for more information.
Event: We spoke at the Weston CT Kiwanis
We are grateful to the Weston Kiwanis for inviting us to speak about faith and dignity at its meeting on Sat.,
March 26, 2016
. Click
here
to read the article about this event in the Weston Forum.
Article: Our Ministries Featured in The Hour
To read Jeff Eydt's powerful article for The Hour of
March 26, 2016
, "Ministry Counsels People Who Committed White-Collar Crimes," please click
here
.
Upcoming Event: 8 State Re-Entry Reintegration Conference
Please join us on
May 6 & 7, 2016
in Stony Point, NY at this two-day faith-based conference centered on the trauma of incarceration as it relates to jobs, housing and family reintegration. We will be leading a white-collar breakout session. Organized, underwritten and sponsored by the Prison Ministry Network of the Synod of the Northeast of the Presbyterian Church (USA). Information: kent.mckamy@gmail.com. Click
here
to register.
Event: Family ReEntry Spring Event At Grace Farms
Please join us on Fri.,
June 10, 2016
, at Grace Farms, New Canaan, CT, for "An Evening Focused On Advancing Justice In Our Community," to benefit Family ReEntry (Jeff is on the Board of Family ReEntry) and the Connecticut Legal Rights Project. For information and sponsorship opportunities, please click
here
or contact Milena Kotara, 203-290-0863, milenakotara@familyreentry.org.
We are grateful to The Nantucket Project for its continuing support of our ministries. Click
here
to view Video of Jeff's Main-Stage Presentation. (17:27)
We are the first ministry in the United States created to provide confidential support and counseling to individuals, families and organizations with white-collar and other nonviolent incarceration issues. Please click here for our full information package.
Donations: Thank You For Your Support & Generosity!
We are grateful for all donations made to our ministries. Donations can be made by
Credit Card/PayPal
or by sending your check payable to:
"Progressive Prison Ministries, Inc." P.O. Box 1232, Weston, Connecticut 06883. We are a CT Religious Corp. with 501(c)(3) status – all donations are tax deductible to the extent permitted by law.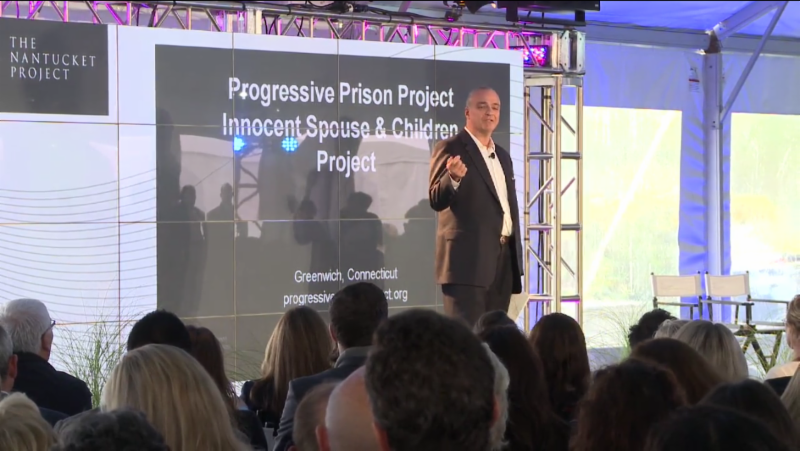 Contact Information:
If transformation and redemption matter to you, a friend or a family member with a white-collar or nonviolent incarceration issue, please contact us and we will promptly send you an information package by mail, email or via Dropbox. The darkest days of a person's life can be a time of renewal and hope.
Prisonist.org: Progressive Prison Project/Innocent Spouse & Children Project are missions of Progressive Prison Ministries, Inc.
Mailing Address:
P.O. Box 1232
Weston, Connecticut 06883
(o) 203-769-1096
Rev. Jeff Grant, JD, M Div,
Minister/Director
Lynn Springer, Founding Advocate, Innocent Spouses & Children
(m) 203-536-5508
George Bresnan, Advocate, Ex-Pats
(m) 203-609-5088
Jim Gabal, Development
(m) 203-858-2865
Babz Rawls Ivy, Media Contact
(m) 203-645-9278
Faith & Dignity for the Days Ahead