Progressive Prison Ministries
Progressive Prison Ministries, Inc.
Jeff Grant, JD, M Div, Director, Lynn Springer, Founding Advocate
White-Collar Ministry I Advocacy I Service
Faith & Dignity for the Days Ahead

Significant Outcomes: Since Jan. 2015, We have Served Over 140 Individuals and Families in 25 States:
Since Jan. 2015, we have served individuals and families in twenty-five states, including:
Arizona, California, Colorado, Connecticut, Florida, Georgia, Illinois, Kentucky, Maryland, Massachusetts, Michigan, Minnesota, Mississippi, Missouri, Nebraska, New Jersey, New York, North Carolina, Oklahoma, Oregon, Pennsylvania, Texas, Virginia, and Washington.
We typically communicate with individuals and families before, during and upon reentry from prison in person or by phone, email, Skype, FaceTime, GoToMeeting or, if in a Federal prison, via CorrLinks. Please click image for our information package.

News: Our White-Collar/Nonviolent
Online Support Group celebrates its thirty-first weekly meeting!
If you have been convicted of a white-collar or nonviolent crime and have served your sentence, please consider joining our confidential online white-collar/ nonviolent support group [As this support group is being run by clergy as part of a program of pastoral counseling, we consider it to be confidential and privileged]. We hold our weekly group meetings on GoToMeeting on Tuesdays, 8 pm Eastern, 7 pm Central, 6pm Mountain, 5 pm Pacific. Click image for details.

Guest Blog: Why Prisoners
and Ex-Felons Should
Retain the Right to Vote
by Gregg D. Caruso, PhD
6.1 million citizens were barred from voting on election day. Our friend Gregg D. Caruso is Associate Professor of Philosophy at SUNY Corning and Co-Director of the Justice Without Retribution Network (JWRN) housed at the University of Aberdeen School of Law, Scotland. Click image to read Gregg's article.

Guest Blog: What's the Use of Regret? by Gordon Marino, PhD
"Kierkegaard observed that you don't change God when you pray, you change yourself. Perhaps it is the same with regret. I can't rewind and expunge my past actions, but perhaps I change who I am in my act of remorse. Henry David Thoreau advised: 'Make the most of your regrets; never smother your sorrow, but tend and cherish it till it comes to have a separate and integral interest. To regret deeply is to live afresh.' To live afresh is to be morally born again." Click image to read Gordon's Op-Ed.

Event: We Will be Leading a Workshop at the UMC Reentry Conference, Jan. 29 & Feb 4, 2017

Louis L. Reed (Program Director of the City of Bridgeport Initiative on Reentry) and I will be leading a workshop at the United Methodist Church Board of Church & Society Reentry Conference. Click image for details.

Save the Date: We Will Be Leading a Workshop at the CMCA Reentry Conference, May 5-6, 2017

Please join us in Philadelphia as Jeffrey Abramowitz and I will be leading "You Got to Have Faith: An Inside Look at Reentry" at the 5th Annual Correctional Ministries and Chaplains Assn. Summit, May 5-6, 2017. Click image for information and to register.


Article: Fairfield County Business Journal: Jeff Grant Takes on Leadership of Family ReEntry
"Grant's elevation – he's served on Family ReEntry's board of directors since 2009 – marks the first time that a person formerly incarcerated for a white-collar crime has served as the head of a major criminal justice nonprofit. 'It's a tremendous step, and a bold decision on the board's part,' Grant said. 'This is a transformative period for Family ReEntry. I owe them my fresh start, so of course I said yes when they offered me the position.'" Please click image to read Kevin Zimmerman's article.
Donations: A Message to Our Great Community of Givers!

Thank You for All You Do for Those Who Need it Most!
We know that you contribute to many important causes, and are grateful for your support of our Ministries this holiday season! Donations can be made by credit card/PayPal by clicking the image above, or by sending your check payable to: "Progressive Prison Ministries, Inc." P.O. Box 1232, Weston, Connecticut 06883. Donations Are Only Source Of Revenue. We are a CT Religious Corp. with 501(c)(3) status. Your donations are tax deductible to the extent permitted by law.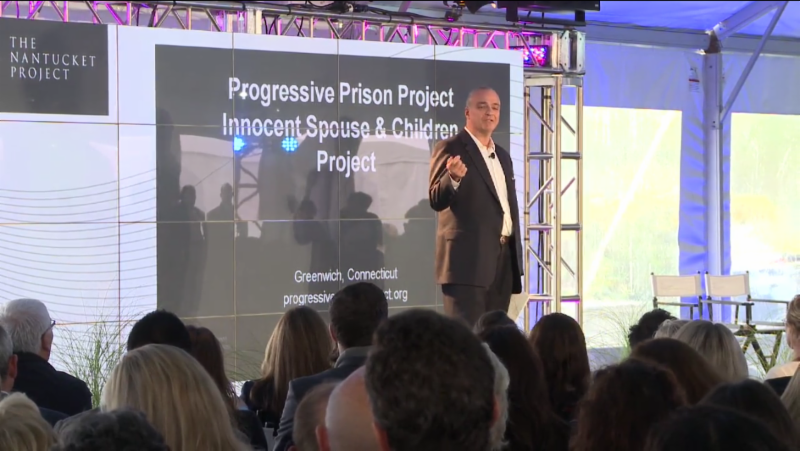 Contact Information:
If transformation and redemption matter to you, a friend or a family member with a white-collar or nonviolent incarceration issue, please contact us and we will promptly send you an information package by mail, email or via Dropbox. The darkest days of a person's life can be a time of renewal and hope.

Blessings, כן, מאוד

Jeff & Lynn
Prisonist.org: Progressive Prison Project/Innocent Spouse & Children Project are missions of Progressive Prison Ministries, Inc.
Mailing Address:
P.O. Box 1232
Weston, Connecticut 06883
Rev. Deacon Jeff Grant, JD, M Div, Director
Lynn Springer, Founding Advocate
Innocent Spouses, Children & Families
(m) 203-536-5508
Rev. Monsignor Joseph Ciccone, Ed D, M Div
Supervising Minister
stjosephmissionchurch@gmail.com
(201) 982-2206
Jacqueline Polverari, MBA, MSW, Advocate
Women's Incarceration Issues
jpolverari@prisonist.org
(203) 671-5139
George Bresnan, Advocate, Ex-Pats
(m) 203-609-5088
Jim Gabal, Development
(m) 203-858-2865
Babz Rawls Ivy, Media Contact
(m) 203-645-9278
Faith & Dignity for the Days Ahead
Copyright Progressive Prison Ministries, Inc. © 2016. All Rights Reserved.